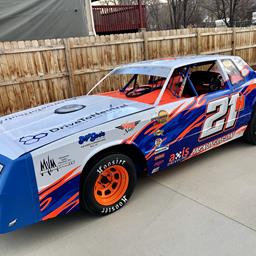 ---
Lawrence Racing Update from Desert Thunder Raceway - Price, UT
Desert Thunder Raceway, Price UT, May 19th and 20th, 2017
Although Lawrence Racing was a party of 1 this weekend (we missed you Dillion Lawrence), it was still a great ride! We are becoming fond of this track! It's easy to get to from Salt Lake and the size and shape make for an entertaining left turn! Friday night, Ed finished 4th in the main event and before the packed crowd on Saturday night, the 21 finished in 6th in the main. Admittedly, Ed said he was disappointed as he wanted at least a top 5 finish. But, lessons were learned and the car came home in once piece! Just a few short evenings to prep for our three-night stint in Rock Springs, WY at Sweetwater Speedway.
Hope to see you there!
---
Article Credit: Sarah Henderson
Article Media
Back to News